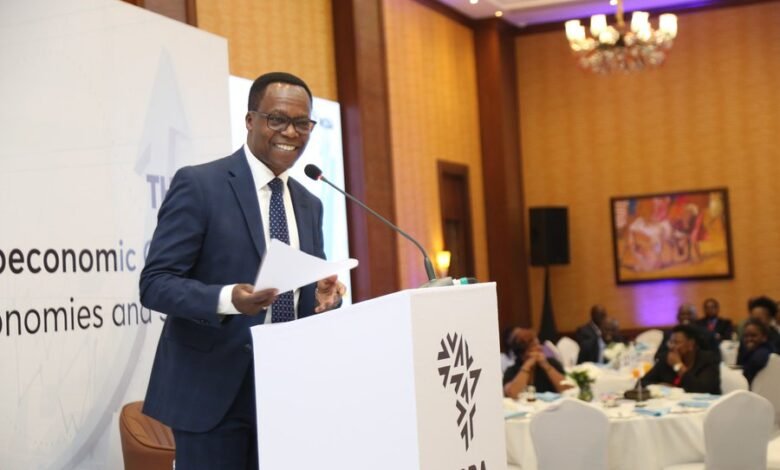 NCBA Bank predicts a 5.1% growth in the Kenyan economy in 2024, boosted by a rebound in the agriculture sector, resilience in the services sector, and government measures to stimulate growth in priority sectors like agriculture and manufacturing.
Despite the cost of living challenges, significant progress has been made, with the government making necessary adjustments to restore macroeconomic stability.
This is according to NCBA Group Managing Director and Chief Executive Officer John Gachora who spoke during the Bank's 2024 Macroeconomic Outlook.
 "We have seen the government roll out significant fiscal adjustments with an outlined multi-step fiscal consolidation path anchored at a target deficit of 3% of GDP and a medium-term revenue strategy necessary to achieve long-term growth," said Gachora.
The 2023 GDP growth has been tied at 4.9 percent powered primarily by resilience in services and a reversal of fortunes in agriculture output especially in the first quarter of 2023.
The Central Bank of Kenya (CBK) on the other hand, expects the economy to grow by 5.5% in 2023 and close to 6.0% in 2024.
"Despite the global uncertainties, Kenya's growth has remained strong and is expected to remain above the global and SSA averages in 2023 and 2024, pointing to the resilience and diversified nature of the economy," said CBK Deputy Governor Dr. Susan Koech, who graced The NCBA Economic Forecast event as the chief guest.
Inflation has declined from 9.6% in October 2022 to 6.9% in October 2023, reflecting monetary policy measures and easing food prices due to favorable weather conditions.
The services sector is expected to register good performance in 2024, but broad economic strain could see some sectors grow below pre-COVID levels.
The agricultural output is expected to expand by about 5.0%, while the manufacturing sector could remain weak at 2.6% due to sustained household budgetary strain.
According to NCBA, Kenya's economic growth path may face challenges such as foreign exchange pressure, uncertain weather conditions, high inflation, geopolitical risks, and fiscal sustainability.
Experts opine that Kenya seems on course to honour its external public debt obligations in 2024.
With an ongoing IMF program, Kenya is expected to benefit from improved market confidence into 2024.
The GDP in Tanzania, Uganda, and Rwanda is expected to grow by 6.1%, 5.7%, and 7.0%, respectively.